2020 began like a normal year. We were gearing up for our regular work, conferences, vacations, and personal milestones.   Suddenly we were thrust with our clients and the rest of the world into uncharted waters. Like everyone else, we started "pivot", "social distance", "mask‑up", "zoom", and, of course, figure out how to work mostly from our home offices.
Client work
We had to help our clients figure out how to conduct business, hold meetings, transact real estate, sign wills, and deal with court and Landlord and Tenant Board closures. We were there to help them find their ways through the ever‑changing legal landscape.
Our clients managed to pull off some great stuff, despite and in some cases, because of the pandemic. Here are profiles showcasing some of the great work happening in 2020 in our sector.
Maintaining connections
We had to figure out how to stay connected with each other. We're a pretty tight group of about 20 used to seeing each other every day and now, for some, going long periods when we haven't seen each other at all. We quickly adopted a few methods – videoconference check‑ins on Friday afternoons where conversation was all social, no work, and where we got to see Fraser's baby, Michael's dog, Hunter's cat, Tania's food and drink, Claudia's knitting, Julie's grandchildren, April's guitar, and so on. Our Slack site picked up the slack between video calls. And we were all only a phone call away from each other. The lines burned up in the early weeks as we figured out how to do things differently – together but apart.
rabble.ca
We continued our long‑term relationship with our friends at rabble.ca, producing 12 pro bono columns on topics reflecting our own interests and the times we've been living in. In case you missed them, here they are:
IC Education
When we started 2020, we had in‑person IC Education events planned in January; February, March; April and June, with plenty more in the pipeline.
January went off without a hitch ‑ Michael Hackl and Celia Chandler delivered workshops on cannabis and human rights respectively and had a great time chatting with housing co‑opers at the Golden Horseshoe Winter Workshops in St. Catharines.
Celia Chandler did a live webinar on February 5, 2020 on human rights and housing, a topic that always draws a crowd. Webinars seemed a bit exotic for us then. Such a long time ago.
April's 2020 Staff Education Forum in Ingersoll was postponed and then cancelled for obvious reasons. The CHF Canada AGM, Member Education Forum and Co-operative Management Conference scheduled for June in Halifax was made virtual and rescheduled during the month of November. We were proud to be part of that event – great to see the co‑op housing sector embrace new technology the way it has!
We took advantage of a world where everything went online and everyone had time to tune‑in: we held two successful webinar series – one in May and another in September. It was great to connect with our clients and others from the sectors we serve. We're proud of the impressive list of new webinars on our website. For a complete list, take a look at our most recent blog on training opportunities found here.
Personal news
Despite the pandemic, lots of good things happened to us personally this year.
January was a particularly big month for us.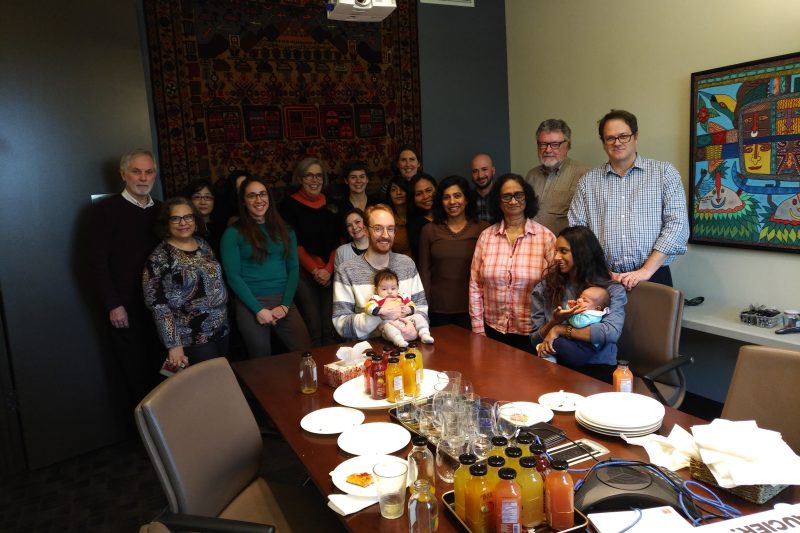 We held a baby introduction in our board room when Shelina's baby and Fraser's baby, already acquainted with each other, became acquainted with all of us.
Brian Iler was delighted to be featured in Corporate Knights magazine. If you missed that profile, check it out here, complete with beautiful illustration.
Celia Chandler was honoured to have her January 2019 rabble.ca series on medically assisted death win a 2019 Online Publishing Award in the Media, Best Blog Column category. You can read it here.
In June, Brian had a health scare including a couple of short stays in the hospital. At a time when health care seems risky, we were worried about him and delighted when he bounced back later in the summer and then, once again in near‑top form, hit a major milestone – 75 – in December!
On the eve of that health scare, Brian, wearing his Hugh's Room Live hat, was part of a panel discussing the future of live music in Toronto. You can watch that interview here.
You're probably wondering, did anyone get a pandemic puppy? Yes, of course. Michael and his family got Bella and we have enjoyed seeing her grow up when she regularly joins our Friday check‑ins.
Our 2019‑2020 articling student, Karly Wilson, was called to the bar in June. She stayed with us on a part‑time basis during the summer and fall and then left in November for a full‑time permanent job at the Centre for Equality Rights in Accommodation where we know our paths will continue to cross.
As we reported in 2019, Fraser Page, our IT and Communications Manager, was married and became a new parent last year. In December this year, he started his parental leave. Julie Khamissa, our office manager who wears many hats, has taken on some of his role and jokingly said "Someone went on parental leave and I'm left holding the baby."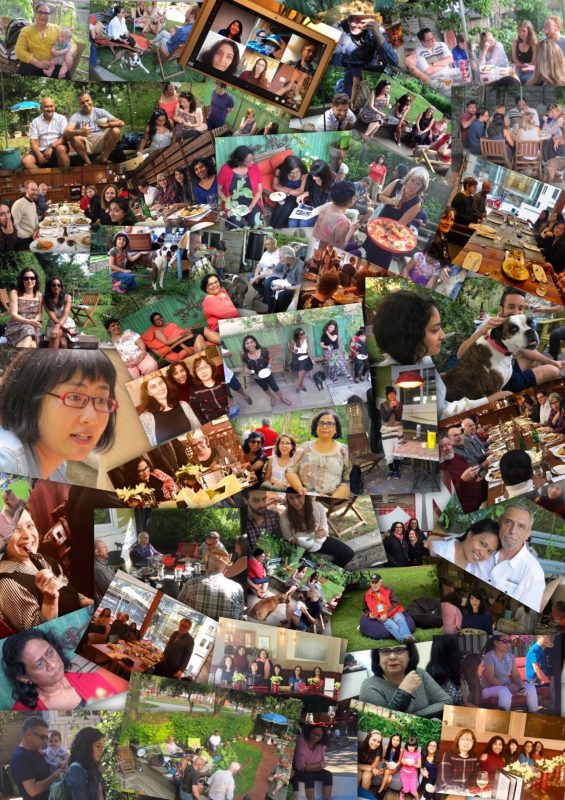 Staff social gatherings were complicated this year. In the past, we have had summer parties and December holiday lunches – many of which are shown in this collage.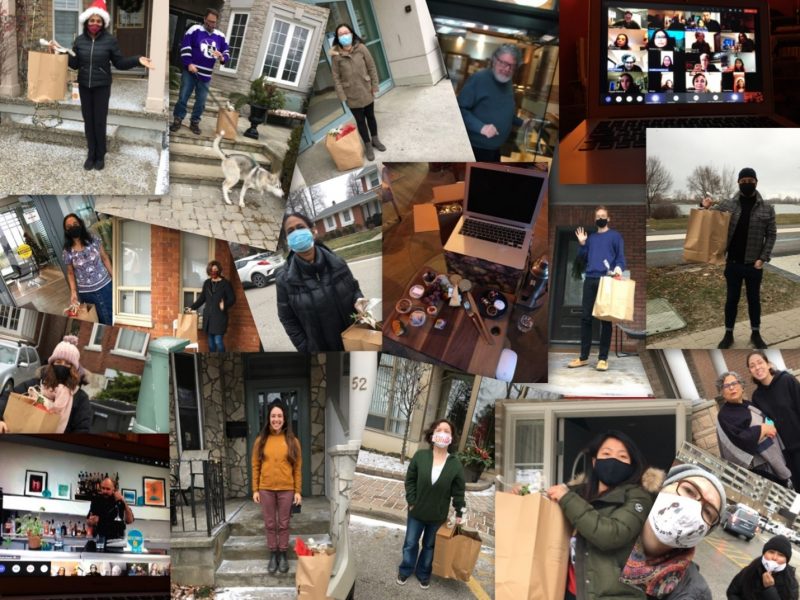 We long to do that again but this year, we had a different event. We gathered online for some entertainment from comedian, Tania Perera; guitarist and singer, April Cornejo; and card trickster, Michael Hackl. Then we were joined by a bartender who helped us make a couple of tasty mocktails, all while enjoying catered nibbles delivered during the day by Celia Chandler.   Here are many of us masked‑up receiving our party kits.
It was fun, but boy do we hope for an in‑person party again in 2021!
We wish you all a peaceful and safe holiday season and look forward to connecting again in 2021.