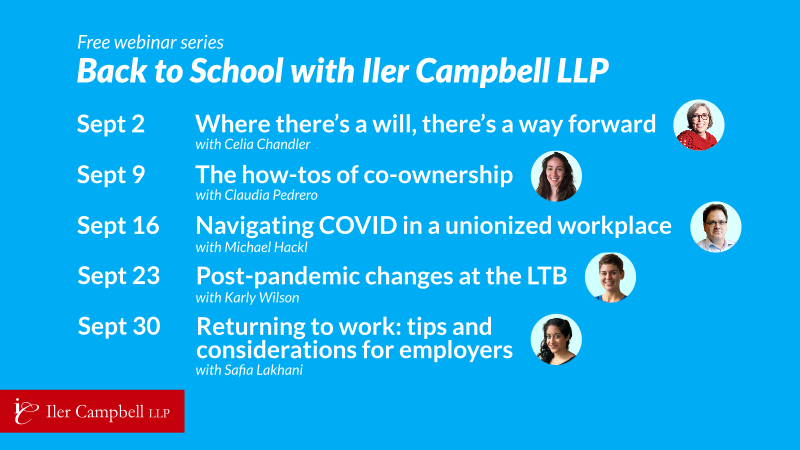 With so much talk about education in the news, we're pleased to provide a safe option for you to brush up on some important legal topics.
Join us every Wednesday in September for free lunchtime webinars in our Back to School series.  No mask required!
Read on for event descriptions and signup links. Can't make an event? Make sure you're signed up for our blog — we'll send a notice when recordings are posted online.
Where there's a will, there's a way forward
September 2 with Celia Chandler
Watch the above video for a recording of this webinar.
We all know we're going to die but most of us assume it's a long time in the future. COVID 19 made us think a little more about the prospect of death and dying. If you have put off making a will or you've had some major life changes and haven't updated your will, this session is for you. We'll talk about why having a will makes it easier for the people you leave behind. We'll also talk about what a power of attorney for personal care and a power of attorney for property are and why you should have those too.
The how-tos of co-ownership
September 9 with Claudia Pedrero
Watch the above video for a recording of this webinar.
More and more people are looking to co-buying as a way to affordably access the real estate market. This presentation will cover the legal aspects of co-owning a residential home – from the relationship between co-owners, to important areas to cover in a Co-ownership Agreement, to responsibility for the mortgage. If co-ownership is something you are considering, join us on September 9th for this free webinar.
Navigating COVID in a unionized workplace: considerations for remote working and returning to the workplace
September 16 with Michael Hackl
Watch the above video for a recording of this webinar.
With the province having progressed to Stage 3 of its reopening, employers are facing questions regarding continued remote working and protocols for reopening the workplace.  This webinar will focus on issues faced by unionized workplaces such as reductions in the amount of work available on reopening, recalling laid off employees, and general occupational health and safety matters.
Navigating post-pandemic changes at the LTB
September 23 with Karly Wilson
Watch the above video for a recording of this webinar.
Now that the Landlord and Tenant Board is open again, what can you expect? This webinar will look at changes to the LTB process, moving forward after the eviction freeze, and how Bill 184 fits in to the mix.
Returning to work: Tips and considerations for employers
September 30 with Safia Lakhani
Watch the above video for a recording of this webinar.
This session will touch on best practices for employers as staff return to work, responding to work refusals from staff, and the duty to accommodate on the basis of family status and disability.